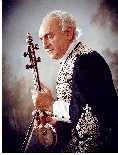 Andranik Aroustamian
(Kamancheh Player)
| | |
| --- | --- |
| The following Image is linked to a video coded in Bamba. If this is your first time seeing Bamba videos, click fist. | |
ABOUT THE ARTIST
Russian-born Andranik Aroustamian, a kamancheh musician, emigrated to the U.S. in 1971 and quickly established a distinguished career. Success was not new to this great artist who was known in his native Russia and in bw for his unsurpassed artistry. American critics agree. They unanimously praise his virtuosity, his unparalleled range of programs, and his ability to enthrall, enchant, and excite audiences. Unlike most kamanchists, Aroustamian composes, arranges, and plays popular folk pieces, as well as classical works ftm both Eastem and Western composers.
Aroustamian is credited with establishing the kamnncheh in the United States as a classical instrument for the concert stage. In New York, his performances at such concert halls as the Camegie Hall, Alice Tully Hall of the New York Philharmonic at Lincoln Center, and the Metropolitan Museum of Art, drew praise from John Rockwell, The New York Times critic, who noted that Aroustamian "is a kamancheh virtuoso, a distinguished master of his unusual instrument." Sin-dlarly impressed, Tom Johnson of 'Me Village Voice, wrote that "Aroustamian tossed off a cadenza that could have been written by Paganini, with speed that few Westemers could match." He has also appeared in Los Angeles, Washington D. C., Boston, Ann Arbor, Vermont, and Philadelphia. Aroustamian's music embraces many different civ@tions. In New York City alone, he was the featured artist at SL Vartan's Armenian Cathedral. In addition, he played at New York City's Plaza Hotel to celebrate Islamic Culture and Civilization. Farokh Bay, the director of the Turkish Radio and Television called Aroustamian, "the world's king of kamancheh."
Enlighting his multifaceted career, he was the guest soloist at a concert commemorating the 44th anniversary of the Warsaw Ghetto uprising in a ceremony hosted by New York City Mayor Kotch, which was televised for the CBS-TV. He has performed before packed houses of dignitaries representing various governments and members of the United States Congress. In Europe, he has played throughout France, and Switzerland. Francoise Griind, Director of the Rennes, France, Intemational Music Festival, commented that Aroustamian's concerts "were received with the rapture and passion that only the greatest soloists know and can arouse in their public."
In addition, Armine Dikij'ian, music critic for the Arinenian-English Press, wrote that "Aroustamian is without doubt the foremost living kamanchist. In elevating the kamancheh to the level of a classical instrument, he has opened up new worlds of sound." According to Aroustamian, presently, there are a number of kamancheh players in the world. However, only a handful of these musicians have gained prominence and popularity. He has developed his skills to such a height that he can play intricate classical compositions, as well as popular pieces, derived from the works of both Eastern and Western composers. He also plays his own compositions with arrangements for the piano accompaniments.
The Russian press in New York also adds their acclaim: "Andranik Aroustamian, a gifted kamanchist, is an artist of the highest rank who evokes delight by drawing from the kamancheh a full-bodied and beautiful singing sound by means of a rare virtuosity, brilliant technique and the profound musicality of a master." Abul Hassan Saba, a reknowned Persian musicologist, composer and musician, called Aroustamian "a famous musician and vertible master of the kamancheh in Iran."
Aroustamian has appeared on CBS-TV, Manhattan Cable TV, and WQXR's Robert Sherman and numerous other radio programs. He has also been featured in Paris on Radio France. He recorded for Melodiya and other European labels.
Bom in Russia, to a noted Armenian musical family, Aroustamian received his early training in Kharkov. As a young man he moved to Iran where he continued his professional training. Then in 1946 he emigrated to Russia to the Armenian city of Yerevan. For many years he conducted the Ensemble of Folklorist Instruments and was the solo kamanchist with the Yerevan Armenian State Philharmonic. Later, he performed as a soloist with the Baku Azerbaijan Philharmonic. He appeared on local radio and television programs and has recorded his music with piano accompaniment. He also performed as guest soloist and concertmaster with the oriental section of the famed Moiseyev Dance Ensemble, touring such major music centers as Moscow and Leningrad. In addition, Aroustamian engaged in extensive musical activities in Iran, performing both as a kamanchist and conductor. The highlights of his performances in Iran include an appearance as soloist at the Imperial Palace in Tehran and extensive solo recitals on radio.
ABOUT THE KAMANCHEH
Many musicologists consider the kamancheh the predecessor of the violin. The kamancheh is an ancient Persian instrument with three metallic strings and a spherical sound chest. it is played with a bow and has a soft, melancholy sound. In 1910 the noted Armenian kamanchist, Alexander Hovannesian (Sacha Oganezashvili), added a fourth string to the instrument, developing its sound and range. The instrument is well known in the middle east and the U.S.S.R. Two hundred and seventy five years ago, a famous Armenian troubadour poet, Sayat Nova, journeyed throughout Eastern Europe, playing the kamancheh and singing poems in Armenian, Azerbaijanian, Georgian, Persian, and Arabic. Today, in the Republics of Caucuses mountains, which border with both Iran and Turkey, the kamancheh is considered the national folk instrument, despite its Persian origins.