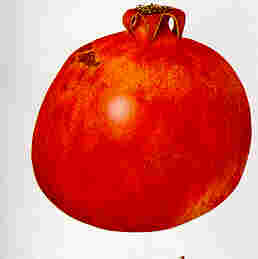 Pomegranate Soup
Ash-e Anar
Ingredients:
1 cup yellow split peas
1/2 cup rice
1 bunch fresh parsley chopped or 1 cup dried
crushed parsley
1 6oz packet of frozen chopped spinach or 1/2
pound fresh chopped spinach
1 tablespoons crushed dried mint leaves
3-4 tablespoons salt
2 tablespoons vegetable oil
1 teaspoon crushed black pepper
2 tablespoons sugar
1 teaspoon tumeric powder
1/2 pound ground beef
3 to 4 cups water
1 bottle (32 FL OZ) MID EAST pomegranate juice
or 3/4 cups pomegranate CORTAS molasses


(serves 6-8)

Add spit peas to water and bring to boil under high heat. (If you are using pomegranate juice use 3 cups of water. If you are using pomegranate molasses add 4 cups of water.) Let the split peas boil for 10 minutes. Add rice to boiling split peas and let them cook together for about 20 minutes or until the rice begins to split apart. The reason we boil the split peas first is that once the rice is added it absorbes most of the heat and will not allow the split peas to cook properly. Season the ground beef to taste with salt, pepper, and tumeric. make small meatballs and add to the soup along with parsely, spinach, salt, pepper, sugar and the pomegranate juice and let the mixture boil for 30 more minutes or until it reaches a creamy consistency. Heat the oil in a separate suacepan and saute\ the tumeric in it. Remove the suacepan from the heat and add the crushed dry mint leaves to it and stir. This way the mint will saute in oil but will not burn. Add the mint mixture to boiling soup and let it simmer for 2 more minutes and then serve.